Food Sterilizer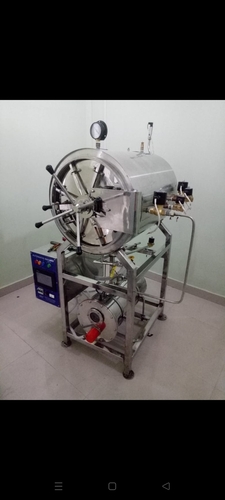 Product Details:
Power

18000 Watt (w)

Dimension (L*W*H)

24*48 Inch (in)

Material

Stainless Steel

Operate Method

Fully Automatic

Weight

350 Kilograms (kg)

Product Type

Sterilizer

Application

For Increasing Self Life
Food Sterilizer Price And Quantity
1 Piece

470000 INR/Piece

450000.00 - 2500000.00 INR/Piece
Food Sterilizer Product Specifications
350 Kilograms (kg)

24*48 Inch (in)

Air Compressor

18000 Watt (w)

18 Kilowatt (kW)

Stainless Steel

Mist Nozzle

Fully Automatic

15 PSI

121 Celsius (oC)

134 Celsius (oC)

Hinged Type Door

For Increasing Self Life

Stainless Steel

350 Kilograms (kg)

Sterilizer

Glass Wool

USB Attachment

Stainless Steel

350 Liter/day

Stainless Steel

Stainless Steel

30 Minutes

30*56

24*48

121 Celsius (oC)

134 Celsius (oC)

440 Volt (v)

Stainless Steel

Pure Steam

Sterilization

3: Millimeter (mm)

30

Soloned Valve

Pressure Steam Sterilization Equipments

Glass Wool
Food Sterilizer Trade Information
Transportation

Cash in Advance (CID)

10 Piece Per Month

20 Days

Yes

Contact us for information regarding our sample policy

Wooden Box

Asia

All India

ISO CE GMP WHO US FDA
Product Description
Retort Processing Unit consisting of a horizontal retort,pump for coolant water,
The details are as follows.
1. With radial locking system.
2. Capacity: 15 kg of products packed in pouches/cans
3. The trays made of Stainless Steel perforated sheets 3 mmthick
4. Appropriate insulation with SS cladding.
5. With pressure gauge, safety valves and calibratedthermometers.
6. Provision (probes) to measure product temperature at threedifferent locations and another probe for recording retort chamber temperature.
7. With automated Fo value calculation system.
8. Fully automated Program Logic Controller (PLC), based control system.
9. Steam, air and coolant water injection lines withnozzles/sprayers, Neoprene gasket etc.
10.Retort inner chamber and outer cover made of good quality304 steel
11.Retort fully insulated as specified.
Operating Pressure and Temperature: 25 PSI max 130 Deg C max
Steam Generators: Suitable steam generation facility withimmersion heater of 9 KW cap each with control Panel to set process temp,pressure and low level cut off to protect the immersion heaters. The processwater can be replenished by the coolant high pressure pump.
Water spray System: Acirculation pump in SS with an inline steam injection system to enable theretort to work under water spray technology. Provision for automatic regulationof water level in retort.
Interconnecting Pipelines: The interconnecting lines withisolating valves located at convenient points for easy operation. The entirepipeline required during installation to fit into given space must be providedby the firm.
Supporting Structure: The supporting structure made of good quality stainless steel square orround tubes. Structure must accommodate tank to store coolant water and act asdrain tank.
Accessories and utilities:
*Suitable compressor with SS pipeline connecting the retort
*Storage tank with connecting pipeline in SS
*SS trolleys 3 ft x 2 ft with Aluminum perforated trays
*Any other accessory required for successful running of thesystem
Installation and commissioning Safety certifications to besubmitted: Above plant and utilities must be delivered, installed andcommissioned at our Centre without any extra cost.
We can provide you with the premium hot water spray retorts.The batch Hot water Spray Retort heated with water under pressure are perfectfor beverages and other food industries.
In this Hot Water Spray Retort Steam boils the water in aseparate tank and make it 121 C inside the food / bottles centre area. Since itis indirect methods of making the product sterilize. It will give good textureand taste. Boiler will remain active during making water 121 C and then productat 121 C.
Features
1.The Hot Water Spray Retorts allow for pasteurization withminimum process water, direct heating and indirect cooling. These will be notouch between cooling water and process water, successfully avoiding secondarycontamination.
2.The Hot Water Spray Retorts also boast perfect pressurecontrol. During the whole processing procedure, the pressure is constantlyadjusted to adapt to the changing pressure inside product package. They ideallykeep package deformation to a minimum, well suitable for Gas packaging and twopiece can packaging.
3.The noise of Hot Water rain retorts is extremely lowcreating a quiet and comfortable working environment.
4.The advanced and suitable DELTA PLC control system ensuresour clients are able to timely locate replacement parts of the batch retortsacross the world reducing down time.
5.The Hot Water Spray Retort / Sterilization equipment makesit convenient to configure automatic corollary equipment for unmanned foodworkshops in the future.
6.The whole sterilization process adopts PLC fully automaticlinearity control via the PLC control, the temperature difference of thermaldistribution is limited within ± 0.5C. The Hot Water Spray Retort Sterilizerallow for multi-stage heating, effectively saving energy. It also has anadditional F value recorder (optimal) capable of storing 100 scheduled process
Applications
The Hot Water Spray Retorts are well application for a widerange of thermal resistant packaging materials.
1.Plastic Container : PP Bottles, HDPE Bottles.
Enter Buying Requirement Details